For the record, I'm still a Backstreet Boys fan. I just finished my essay, and it's 1:30 now. My posts are getting later and later.
This post is about recent purchases. New holiday bags arrived at Juicy Couture boutiques just yesterday. They're pretty darn cute.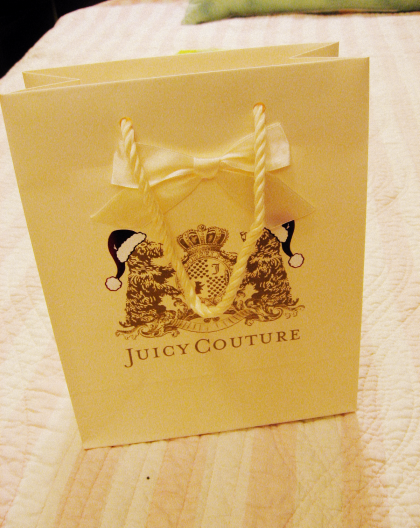 It looks more off-white in real life, and the hats that the dogs are wearing are metallic red.Here's my Juicy purchase.
I'm obsessed with this cut. I have two other tanks with a similar cut, and almost bought another one a couple months back, which I regret not doing.
I made two purchases at H&M as well. It's my first time buying from H&M; despite being affordable fashion, it's too pricey for my liking. I've walked in several times, coveting and trying on pieces that I end up placing back on the racks. I imagined this time to be the same, until I passed by the tiniest sales section. The red tags that were labeled $10 caught my eye. And I'm so glad they did.
This has to be my favorite purchase in a while. My favorite shade of pink, ribbon ties,
ruffles
? Gosh, it's a match made in heaven. For only $10, marked down from $30!
I bought second dress, which I nicknamed the calamari dress.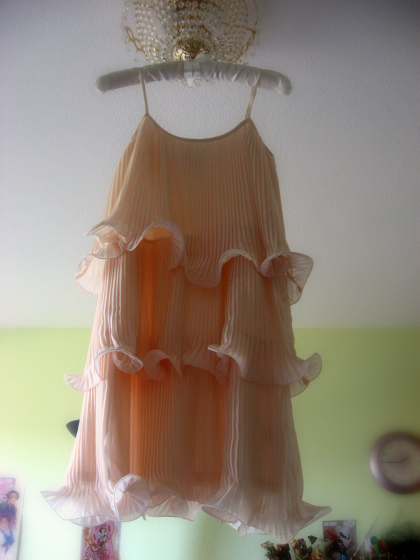 Live calamaris are some kind of adorable (I guess they would be called squid. It's different in Chinese). I saw them in an aquarium in Taipei, which later closed down. They were really small and floaty and remind me of this dress. This one was marked down to $10 from $40.
Love, Kai