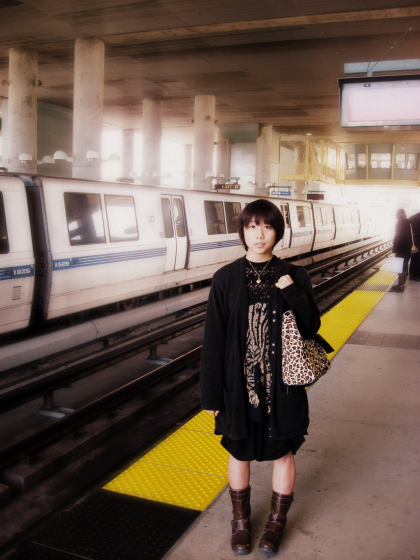 Urban Vibe tank from Wet Seal, kids boots from Famous Footwear, Betsey Johnson bag from Nordstrom Racks, crochet lace tank and cardigan thrifted, pants from Taiwan, Juicy Couture necklace
Pouring rain in the morning, and again at night. Luckily there were blue skies throughout the afternoon so I didn't have to worry about the rain too much. I went to San Francisco today for the Angelic Pretty opening. I almost wasn't going to go because my parents were busy babysitting my brother and his friend plus his friend's baby brother. Which I didn't quite get because my brother is in 6th grade, and his friend is mellow-not the rowdy type that gets into fights at friends' houses. This morning I told my mom that I was thinking of going to Union Square by myself, and at that point, she called my dad over and told him to take me instead. So I ended up going. I should have taken some pictures of Union Square too.
Because I wasn't anticipating on actually being able to go, I was left with 20 minutes to get ready- 10 minutes in which I spent in the shower, 5 minutes getting dressed, and 5 minutes packing up. 20 minutes isn't enough for me to choose a dress and coordinate to wear, style my wig, and apply makeup. Not wearing lolita to a lolita based event made me feel kind of uncomfortable.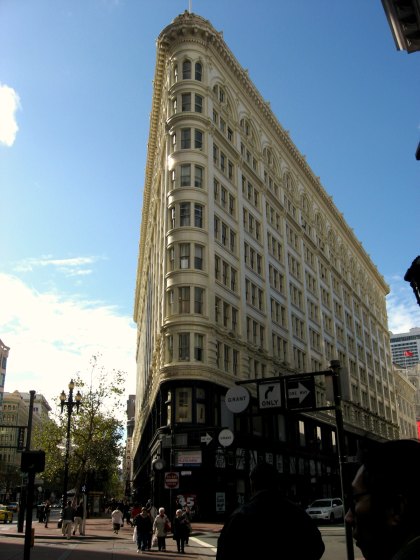 I love being in San Francisco. I pass by this building all the time when I'm on the bus, and never got a clear picture of it. My dad dropped me off in the city today and let me off on my own, so I went and took a picture.
There's also a Juicy store that I pass by all the time and never get to go in. This one was probably the most impressive Juicy store I've been in. It has a main floor and three additional floors above it. If I remember correctly, the floors are labeled at main floor, first floor, second floor, and third floor. But really, it's 4 floors. The first floor carries Bird item and the third floor has a kids' section.
Juicy has been having a lot of sales lately. I've received several 30% off coupons in the past month or so, and they've been having their 40% off sales items sale recently too. I wanted this top in white, they didn't have it in the size I wanted. I like it longer, like the grey one, but there weren't any left in white. I ended up getting the grey one. This one was one of the sale items; retailed at $70s' range, on sale for $30, and then additional sale lowered it to $18. I sort of wish I bought the white one instead already. Goshdangit.
I stopped by the Angelic Pretty/Harajuku Hearts shop a couple times before lining up. The first time before lunch, but the line was too long and I hadn't had breakfast yet, and it was already past 11. The line wasn't very long by the time I started lining up, but the store is small so it was still a long wait. While waiting, there were people staring, taking photos, cars coming by who slowed down to take pictures, admirers, and haters (haters gonna hate). I suppose it's not often that most people see so much poof and frills gathered in one place.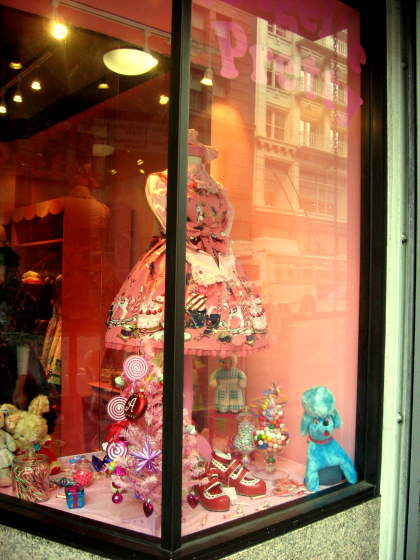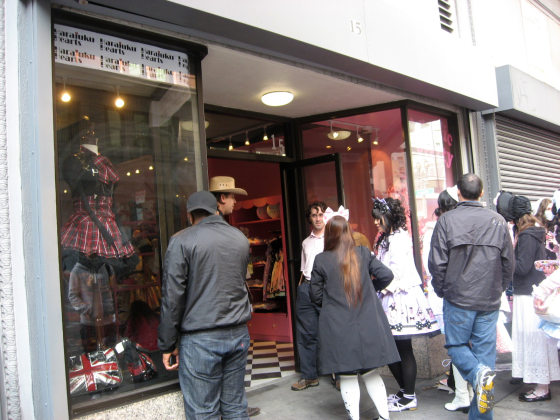 I wasn't sure if pictures were allowed, so I only took one, which turned out to be a blurry one. Apparently there was a 'no photos' sign at the front. Whoops. I was kind of expecting everything in the store to be bought off by the time I got in. There weren't that many items in the store when I got in, but I couldn't tell if that was because of the store size or because it all sold.
I made a small purchase for the sake of buying something. Oh, and asked for pictures with Maki and Asuka, designers for Angelic Pretty.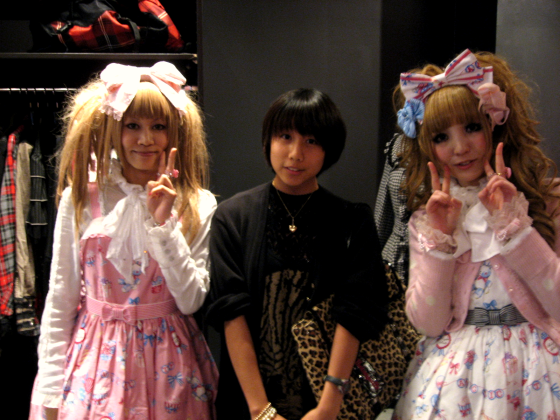 The last time I got pictures with them, earlier this year, a photographer took it for us and charged us $10 per photo. It was one of those that were developed on the spot and wasn't all that great quality.
I bumped into Asuka a few minutes later and asked to take her picture, since the lighting inside wasn't the best. Accidentally cut off her feet.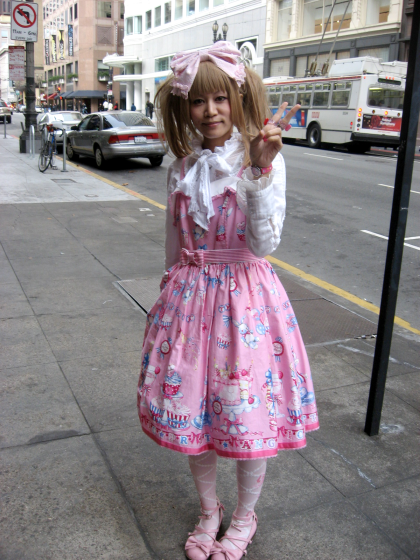 Maki came out not long after, and I thought I might as well ask to be in the picture with her. I really really wish I dressed up. They're so photogenic.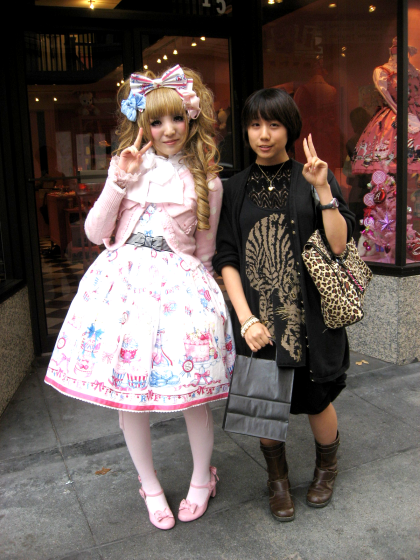 Love, Kai